Dec 1, 2015
UNIVERSITY OF EXCELLENCE
WWW.UOFE.ORG
Prince Handley
President / Regent
THE "I AM"
HE WILL BE WHAT HE WILL BE
HE WILL START NEW THINGS
You can listen to this message NOW.
Click on the pod circle at top left. (Allow images to display.)

Or, Listen NOW >> LISTEN HERE

Email this message to a friend.
Subscribe to this Ezine teaching by Email: princehandley@gmail.com
(Type "Subscribe" in the "Subject" line.)
24/7 release of Prince Handley teachings, BLOGS and podcasts > STREAM
Text: "follow princehandley" to 40404 (in USA)
Or, Twitter: princehandley
________________________________________

DESCRIPTION OF THIS TEACHING
Recently I walked in the desert alone for many hours at a time several days until both my feet were extremely sore. The heat was intense and I even got lost one time. I learned TWO things:

God does NOT have to speak to us audibly; and,


He will be with us and listen to us.
This teaching will assure you of:

God's PRESENCE


God's PROTECTION


God's PROSPERITY


God's PLAN
New things are going to happen in shifting geopolitics. New things are going to happen in a riptide economy (as I have warned you previously). New things are going to happen in YOUR LIFE if you are consecrated and desire promotion: Real MIRACLES of breaking forth, unique anointing and … para kisa hando … creative prophetic decrees.
________________________________________

THE "I AM"
HE WILL BE WHAT HE WILL BE
HE WILL START NEW THINGS
Recently after hours and days of walking in rough desert―and hilly―terrain I began to feel such great joy from being alone with God and with no humans … nothing … around except an occasional animal. I started asking God some questions like, "Were there NOT others except Caleb and Joshua who believed you enough to make it into the Promised Land after 40 years of wandering?" I told God that I didn't doubt Him or His word, but that at of around three (3) million people there should have been someone else other than Caleb and Joshua who didn't rebel against Him.***
I asked Him several questions―sometimes repeating them on occasion―but never received an answer. I even asked Him, "Why don't you talk to me?" One day God spoke to me (not in an audible voice … but in my heart) and told me to pick up a white rock. He told me (in my spirit), "I want you to keep this rock to remind you that I walked with you in the desert."
________________________________________
God does not have to speak to you audibly … but He will show you.
_________________________________________

I keep that white rock on my desk. I am looking a it right now. The presence of God is strong in my house, in my mind and in my spirit. I have fasted several times in my life, and fasted for 40 days … but I have NEVER been impacted the way I was recently when the God of Abraham, Isaac and Jacob walked with me in the desert. You can overcome fear and sterility in life, business or ministry. You can increase your productivity and success and experience victory over your enemies by closeness with the Great "I AM."
God will reveal to you SECRETS and even give you a "sign" through your enemies. Be watchful for those situations where God will invade the enemy through you―and where God will receive ALL the glory for your MIRACLE. Begin to see your enemies as a "stepping stone" for promotion and success. Use your faith and make prophetic decrees concerning the same.
________________________________________
How God brings success … secrets and enemies.
________________________________________

The Bible tells us, "Draw near to God and He will draw near to you. Cleanse your hands, you sinners; and purify your hearts, you double-minded." (James 4:8) "But it is good for me to draw near to God; I have put my trust in the Lord GOD, That I may declare all His works." (Psalm 73:28)
God has prospered me so much in my life and ministry through my enemies that I almost feel guilty. It even makes me laugh at how God has used opposition and resistance from my enemies (several claiming to be Christians) as a "setup" for my promotion, prosperity and blessing. He will do the same for you … IF you exercise forgiveness and faith!
________________________________________
Let it go and forget about it.
________________________________________
While walking several days alone with God in the desert I learned that my greatest JOY in life is just to be alone with God. That is His highest PLAN for me and the underpinning of my life and ministry. It makes me want to reach more people for Messiah Jesus―multitudes from every nation, tribe and tongue―so they can know my Father's love and greatness, and be blessed here on earth … plus live in Heaven with God forever. I must tell them what is happening NOW … and in the FUTURE.
________________________________________
Discerning the times with accuracy
________________________________________

New paradigm shifts―shocking changes―are going to happen in geopolitics.

New things―riptides―are going to happen in the economy.

A PROPHECY FOR YOU
New things are going to happen in YOUR LIFE if you are consecrated and desire promotion: Real MIRACLES of breaking forth, unique anointing and … para kisa hando … creative prophetic decrees.
It is YOUR time to prepare AND to rise up―to launch out―into a ministry of creative prophetic decrees in order to:

Place into abeyance pre-planned evil.

Implement unique End Time exploits in the power of the Holy Spirit.
________________________________________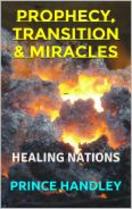 PROPHECY, TRANSITION & MIRACLES
________________________________________
I trust this teaching has helped you, and that it will help you to be more empowered by God's love. Right now we have an excellent OPEN DOOR before us to train and assist national apostles, prophets, evangelists, pastors and teachers in the international community. If you want to be part of this UNIQUE EXPLOIT, read the "Opportunity" below and work with us.
OPPORTUNITY
One way to invest securely is by working with God, reaching others with the Good News!
Your donations to Handley WORLD SERVICES Incorporated help us reach nations.
All of our projects of outreach are FREE and are financed by our donors.
Use the SECURE DONATE button below to help us do God's Work.

A TAX DEDUCTIBLE RECEIPT WILL BE SENT TO YOU

My friend, let me ask you the most important question of your life: If you were to die right now, do you know for sure that you would go to Heaven? If not, pray this prayer:
"God of Abraham, Isaac and Jacob, if Jesus is really my Messiah, please reveal Him to me and I will serve You the rest of my life. Please forgive my sins. Help me to live for you the rest of my time on earth, and take me to Heaven when I die. Amen."
Baruch haba b'Shem Adonai.
Your friend,
Prince Handley
President / Regent
University of Excellence
Podcast time: 9 minutes, 39 seconds
*** Torah: Numbers 1:46 603,550 men age 20 and up + 1 woman for each man = 1,200,000 parents + 3 children for each family (probably more) = 1,800,000 children + 1,200,000 parents = 3,000,000 people left Egypt at the Exodus and wandered in the wilderness for 40 years.

Copyright © Prince Handley 2015
All rights reserved.
________________________________________

Real Miracles Resources
Prince Handley Portal
Prince Handley Books
Free Bible Studies
FAST READS
24/7 Prince Handley Blogs, Podcasts & Teachings
_________________________________________
NOTE: Scroll down for ALL previous podcasts last 10 years.
Prince Handley Ministry Portal: www.princehandley
Prince Handley Books: http://www.realmiracles.org/books.html
University of Excellence The Believer's Intelligentsia: www.uofe.org
Real Miracles: www.realmiracles.org
Subscribe to The Healing and Miracle Podcast here: SUBSCRIBE
Subscribe to Apostle Talk Podcast here: SUBSCRIBE
Subscribe to The Voice of Israel Podcast here: SUBSCRIBE
FREE online New Testament Bible Studies in French, Spanish & English:
http://www.uofe.org/bible_studies.html
Apostle Talk Podcast(advanced teaching): www.apostle.libsyn.com
Healing and Miracle Podcast: www.healing.libsyn.com
Voice of Israel Podcast: www.podcastsatellite.libsyn.com
Rabbinical Studies: http://uofe.org/RABBINICAL_STUDIES.html
Israel News and Prophecy: www.podcastsatellite.com
If you need healing, deliverance, or prayer, email to: princehandley@gmail.com
________________________________________